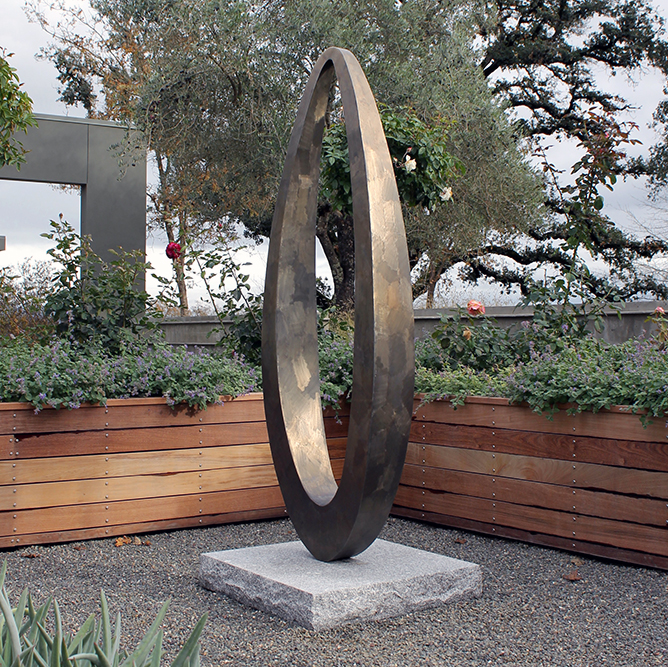 NEWS
Announcement:  Come join us this fall for Silicon Valley Sculpture 2020.  Wiedmann, in partnership with SVS, Art Ventures Gallery and Menlo Park Public Art, will be exhibiting in this 3-day sculpture exhibition bringing together public interests, local governance and technology companies to celebrate art, innovation and community.
Wiedmann Sculpture Studios featured in Luxe Magazine.
9/29/18 – 1/6/19 – Wiedmann's work will be shown in the Sonoma Valley Museum of Art's show "From Fire Love Rises." 
2018- Wiedmann Sculpture Studios is sponsoring Napa Valley's "arty Party" NIMBASH, 2018.  In asssociation with Nimbus Arts we will be hosting a metal arts plasma cutting activity for the event.  Click here for tickets.
2018-  The City of Napa Planning Commission has approved a project that includes the installation of two public sculptures in public spaces. Details to follow.
2014- Wiedmann Sculpture Studios is relocating from Portland, ME to St. Helena, CA
2011- One of Wiedmann's pieces was featured in Maison Française Magazine. The article is an exposé of designer and hotelier Grace Leo's Paris apartment that contains Wiedmann's work. (read the article here)
CURRENT REPRESENTATION
Gruen Galleries, Chicago, IL
Art Ventures Gallery, Menlo Park, CA
Melissa Morgan Fine Art, Palm Desert, CA 
PREVIOUS REPRESENTATION AND EXHIBITIONS
The Ronna and Eric Hoffman Gallery, Lewis and Clark College, Portland, OR, 1997, 1998, 1999
Icon Studios, Portland OR, 1998,1999
CW White Gallery, Portland, ME, 2001-2004
The Salt River Artisans Gallery, Boothbay Harbor, ME, 2004-2006
The De' Vorzon Gallery, Beverly Hills, CA, 2004-2018
Scott Potter Gallery, Portland, ME, 2005
Thomas Moser, Freeport, ME, Boston, MA, 2005-2007
The Belucci Pisano Gallery, Martha's Vineyard, MA, 2006-2009
Art Space, MA, 2006
The Academy at Charlemont, Alumni Show, Charlemont, MA, 2005
J. Dostie, Portland, ME 2008-2010
The Toronto International Art Fair, 2010
The Heron Point Gallery, Portland, ME, 2010-2014
Belloc Lowndes Fine Art, Chicago, IL 2010-2012
Art Chicago Fair, 2011
Museum Editions, NY, NY, 2011-2015
Viles Arboretum and Sculpture Garden, Maine, 2013-2014
Editions Limited, Indianapolis, IN, 2013-2016
Aerena Galleries, St. Helena, Healdsburg and Yountville, CA, 2014-2018
Solage Resort and Spa, Calistoga, CA 2014-2015
Calistoga Ranch, Calistoga, CA, 2015-2017
NOTABLE CORPORATE COLLECTIONS
Ford Motor Corporation
Blackberry International
Union Square Global Wealth Management
Kaiser Permanente
Hypermach Aerospace
Hewlett Packard
NOTABLE PRIVATE COLLECTIONS
(remain private)