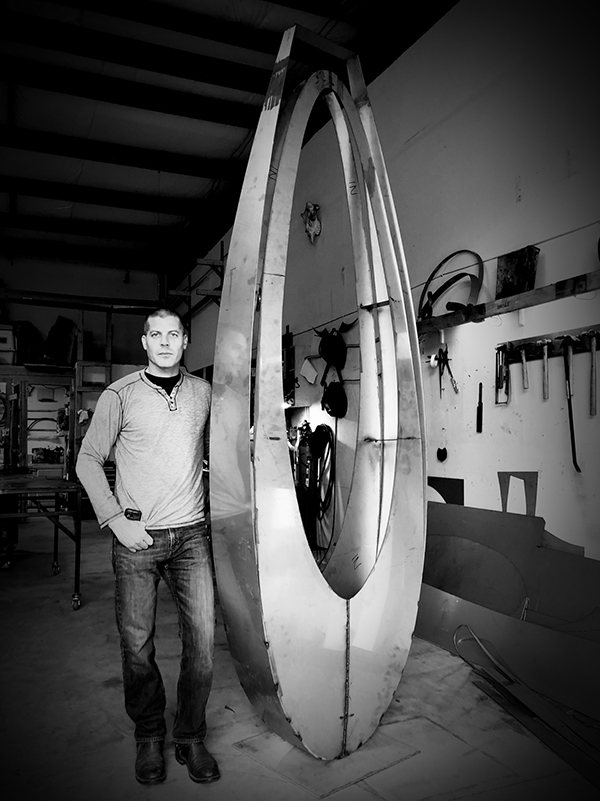 "My work is art that can stand alone. It does not need a title. It needs no introduction. It is its own object. It has not been found. It is not a realistic or abstract representation or reference to anything else. This is the art I make"
– Adam L. Wiedmann
Setting himself apart from others, Adam L. Wiedmann pioneers creative masterpieces through transforming hard industrial materials into elegant balanced works of art.
Forging industrial steel and stone into soft and gently curved works, Adam truly exposes the secrets of mother nature and his affinity for exploring them. As nature is subjective, Adam intentionally leaves his work "Untitled," welcoming viewers to approach and interpret the alchemy of his art on an independent level. Adam's inherent attraction to both energy and tranquility surely manifests through his creative technique. With literal sparks flying, controlled destruction, and vivacity sliding through his fingertips, his perfectly balanced sculptures clearly represent the true essence of his inspiration.
Adam's sculptures are suitable for both indoor and outdoor installation, as natural elements tend to complement the stainless steel material and the patinas applied. His unique composition and environmental versatility is quickly putting him on the map as the go-to-sculptor for contemporary and sustainable artwork.
Celebrated worldwide, Adam's work can be found in corporate, private and public collections and has been acquired by Former presidents, top CEO's and notable designers. Adam has also exhibited in galleries and museums and has been featured in well recognized art and design publications such as Art News, Le Maison France, Napa Valley Life Magazine and Southwest Art Magazine.
When Adam is not creating fine art, he can be found spending time with his two amazing daughters and actively participating in community involvement. He is an active member on the board of directors for the Arts Council Napa Valley, he also teaches at risk youth for Nimbus Arts, and is a curative director for the Sonoma Valley Museum of Art.